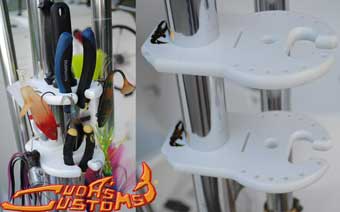 $34.95

Need your knife, pliers, tackle and hooks stowed in one safe convenient holder? Then you need the "Manta Ray". The Manta Ray is made of 2 clamp-on holders, each holder is made of UV protected marine grade starboard and mounted with 2 stainless steel allen head screws. Mounts at any desired height on the pipe and the two pieces can be placed at any distance needed along length of pipe to conceal the point of the knife, safely stowing the tip.
Once installed, holder can be rotated 360 degrees around pipe but will not move up or down even with bucking and bouncing. The knife slot is 1 1/4 inch wide and 1/8 inch thick, there is a 1/2 inch hole in the middle for a knife or hook sharpener.
On each separate holder there is a 1 1/2 inch long by 3/4 inch wide pliers slot and 12 holes, 6 on each side, for tackle and hooks. The entire holder will hold 1 knife, 1 hook sharpener, 2 sets of pliers, and 24 hooks or tackle. Both holders are included along with mounting allen screws and allen wrench needed for installation.
Click here for printable ruler.

You can use calipers or a tape measure to get the outside diameter (OD), use a flexible tailors ruler to measure your pipes circumference, or you can print out our custom ruler and wrap it around the pipe you will be mounting your drink holder on.
Dimensions:
Working part of holders are 4 inches wide and each individual holder is 1/2 inch thick.
You need 1 inch clearance for the back C half of holder for those tight spaces in between the grab rails, windshields and consoles.
Pipe size chart.

Shipping Notice: Because all of our marine holders are custom made, normally your order will ship within 48 hours.
However on rare occasion some products may take 3-4 days before orders are shipped. Thank you for understanding.


Please double check your measurements for your clamp-on drink holders. We want to be sure you order the correct size for a nice snug fit. We don't want y'all to have to pay all that extra shipping to get it to us and back to you again

.
Please print the ruler or call us if you need assistance, 866-730-1524.
Thank you. Tight Lines!!!
All Holders are Invented, Custom Made, and Manufactured, by us Cuda's Customs, Right Here in the USA.