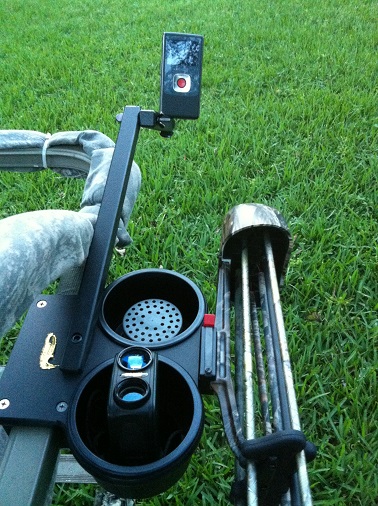 Black
$49.95+

Be in stealth mode while sitting in your tree and have your drink and other hunting necessities readily available. With Cuda's Customs climber and treestand clamp-on drink accessories holder, you can have that really important stuff out of your bag and within reach. We've also added a quiver clip holder on the front to keep your quiver close and quiet.
You can also add an optional camera arm mount. This silent easy to use arm conveniently mounts directly on the top of the clamp-on holder and will rotate around o you wont miss any video or photos. The 17 " arm mount has a pivoting joint 12 inches up the arm that can be loosened and tightened quickly allowing the camera to move up or down into desired position.
Like all of our products, they are constructed of tough UV protected starboard and built to last.
Each holder is a precise custom fit for each tree climber railing size variation. This clamp-on holder fits a climber railing size of H 1 1/4" x W 1 3/8".
The large cup fits a can with a foam koozie or 24 ounce tumbler. Small cup fits a bottle with a koozie, a can without a koozie or remove cup insert and use for a togo coffee mug. Included with your custom holder is the removable cup insert and 4 stainless steel mounting screws.
You can use calipers or a tape measure to get the outside diameter (OD) of the climber railing you will be mounting your drink and accessories holder on.
Holder Dimensions:
Length 6 1/2", Width 8 1/4",
Cup depth: Small cup is 3", Large cup is 3 1/2" including a 1" recessed bottom. .

Shipping Notice: Because all of our marine drink holders are custom made, normally your order will ship within 48 hours.
However on rare occasion some products may take 3-4 days before orders are shipped. Thank you for understanding.
Please double check your measurements for your clamp-on drink holders. We want to be sure you order the correct size for a nice snug fit. We don't want y'all to have to pay all that extra shipping to get it to us and back to you again.
Please print the ruler or call us if you need assistance, 866-730-1524
Thank you. BBD!!!
All Holders are Invented, Custom Made, and Manufactured, by us Cuda's Customs, Right Here in the USA.